Reviews aren't only useful for customers, but for businesses too. Your business' Google listing might already be open for reviews, but are you making the most of this opportunity for free marketing?
If you've never given much thought to Google Reviews as a business tool, read on to find out why Google Reviews matter, simple ways to get more of them and why a negative review can sometimes be a positive.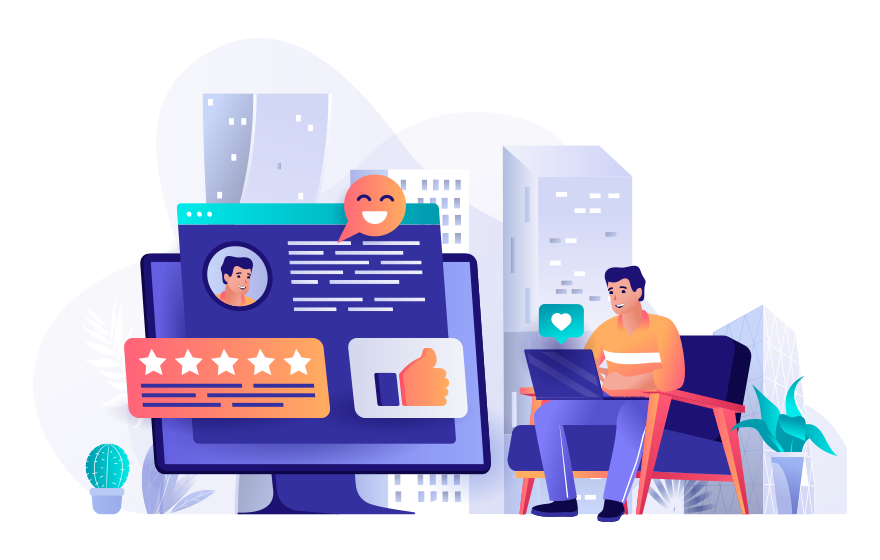 4 benefits of using Google Reviews
If you're not already using Google Reviews, you're missing out on an extremely cost-effective marketing tool. Here are four main ways these high-profile reviews can be valuable to your business, with statistics from BrightLocal's Local Consumer Review Survey 2020.
1. Building trust
79% of customers trust online reviews as much as personal recommendations (BrightLocal 2020)
Even the best digital marketing efforts don't have the credibility of reviews from real customers, and these don't cost you a cent. Customers value authenticity and transparency, and seeing that other people have rated your business highly is powerful social proof that you can be relied on.
2. Improving local SEO
87% of customers read online reviews for local businesses (BrightLocal 2020)
Online reviews aren't only important for big businesses. In fact, their impact can be even greater on small businesses, where every review holds more weight and customers are more likely to need a recommendation.
Google's search algorithm uses many factors when ranking local business results, but a number of positive reviews will certainly help to boost local SEO. According to Moz, review signals may count for as much as 9% of search rankings, which could give you the edge on your competitors.
3. Driving traffic and conversions
94% of customers say they are more likely to use a business with positive reviews (BrightLocal 2020)
Google gives priority to local businesses in search results, so your Google My Business listing with a positive review score could be the first impression for many local customers. When you add a link to your business website on your Google profile, you can get more people clicking through – and if they like what they've read in reviews, they're more likely to make a sale or convert.
4. Getting insights
As well as the direct benefits, reviews also give you feedback on how your customers feel about your business and your products or services – the good and the bad – which can be useful for ongoing improvement and increasing your review average. Google My Business also includes detailed analytics on who is visiting your profile and what actions they take.
What are the consequences of bad reviews?
70% of customers are more likely to use a business that responds to negative reviews (BrightLocal 2020)
Of course, the downside of inviting people to leave public feedback on your business is the risk of getting negative reviews – though these may not be as bad as you think.
Every business gets negative reviews sometimes. Nothing looks more suspect than a perfect rating, after all. As long as they're a small proportion of your reviews, bad reviews won't have a significant impact on your overall score – BrightLocal found that the majority of customers consider using businesses with 3 stars or more.
While negative reviews can certainly give customers pause, most people who read reviews are likely to read the content of the review to see what the specific complaint was, and whether it seems reasonable and legitimate. They will also see your response, which you can use to show your business' professionalism and commitment to resolving problems and improving the customer experience.
You can contact Google to request the removal of bad reviews that aren't legitimate, but the best way to reduce the impact of negative reviews is to encourage more positive ones.
How to get more Google reviews
Having a few 5-star ratings isn't enough, as the recency of reviews is also a factor for Google and customers alike – with 73% of customers only paying attention to reviews written in the past month, according to BrightLocal.
If you're struggling to get new reviews for your business, or want to improve your score, follow these dos and don'ts of Google Reviews.
Optimise your Google My Business listing
Customers are most likely to check Google My Business for local business reviews (BrightLocal 2020)
Customers are more likely to notice and pay attention to your Google listing when it looks professional and inviting. Make sure you verify your listing, complete your profile and add images to improve your chances of success.
Request reviews from satisfied customers
72% of customers leave a review when asked to do so (BrightLocal 2020)
Rather than waiting and hoping that people will think to leave a review themselves, you should reach out and ask them. Including friendly reminders in follow-up emails, phone conversations and linking to your review page from your website and social media will help to get the message out. Make sure to thank customers in advance for their time.
Respond to reviews
96% of customers that read local business reviews also read the business' response (BrightLocal 2020)
You'll want to read your reviews anyway, and taking the time to respond personally to each one (rather than using a template response) will be appreciated and show that you value their feedback. What's more, Google has confirmed that it acknowledges when companies respond to reviews, so you could be boosting local SEO further.
Use other review sites
72% of customers think it's important for businesses to be on multiple review sites (BrightLocal 2020)
While Google Reviews may be the most prominent, they're not the only platform customers trust. To reach a wider audience and build website links, you should also make sure that you're listed on relevant review sites for your industry – whether that's Yelp, Amazon, Tripadvisor or others.
Don't buy fake reviews
80% of customers believe they have seen fake reviews in the last year (BrightLocal 2020)
One final point is that the practice of paying for reviews or offering incentives, like all 'black hat' practices, is frowned on by Google, and is likely to be noticed by your customers. Instead, focus on collecting genuine reviews and benefiting from the free advertising for your business.
Grow your local business with Quantum
For more advice or help getting started with Google Reviews and other effective tools for reaching local customers and making sales, talk to Quantum's local SEO experts in Sydney.