It's no secret that a lot of people use search engines to look for jobs. So it's no surprise that the world's largest search engine, Google, has recently released a new platform to make job hunts easier! The tech giant recently launched its very own job search portal that's designed to help job seekers filter through job openings. The platform is already active in the US but when it will be launched in Australia remains unclear.
Here's a tweet from Google about the release: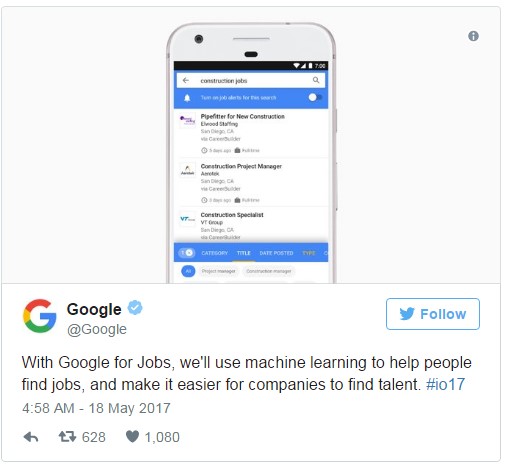 How The Google For Jobs Platform Works
Google for Jobs will work by leveraging Google's advanced machine learning trained algorithms to filter through countless job listings and match them with job searches. Thus, the company will use its artificially intelligent systems to classify jobs and continuously improve the process using ongoing machine learning. Here's a run-down of how the platform will work:
Users enter a job search query e.g. Jobs in Sydney, Marketing Jobs etc. onto google search
A blue box titled 'Jobs' will pop up in the search results with a number of visible job listings.
Clicking on the 'Jobs' box will take users to Google's job-specific search platform that enables them to filter through listed jobs via category, title, date posted, type, city, company type and employer. During Google's annual I/O Developers Conference; CEO Sundar Pichai also hinted at the possible addition of a feature that will help seekers sort through commute times.
After a job seeker finds a job that meets their description, they can't directly apply for the job on Google for Jobs. Instead, they are directed to the original posting on a third party job seeker websites (e.g. LinkedIn) to apply.
Here's a video of how the platform will look like and work on mobile devices:
How The Google For Jobs Platform Works
Luckily for job search engines, Google currently isn't planning to start hosting their own job listings. Instead, they will work beside present search engines by pulling existing listings from a range job search engines and career sites like LinkedIn, Glassdoor, Monster and even Facebook. Thus, the platform essentially lets you search these job sites all at once. Although the listings are currently limited to the job search engines listed above, if we look historically at what Google has done with search, it is quite probable that over time Google will start indexing and pulling job listings directly from individual websites.
Currently, the platform remains another revenue source for Google as they index their information while simultaneously providing existing search engines with a new way to allow job seekers to find their listings. Although it doesn't look like Google for Jobs will be competing with existing search engines, the future is unknown as the platform continues to develop. Thus, only time will tell us whether Google will start hosting their own job listings.
During the I/O conference, Sundar Pichai stated that companies like FedEx and Johnson & Johnson that have trailed the program observed an 18% increase in job applications compared to the past. It's too early to say whether this figure is a testament to the success of Google for Jobs. But for now, we have a streamlined platform that uses the power of AI technology to help job seekers find their next gig.