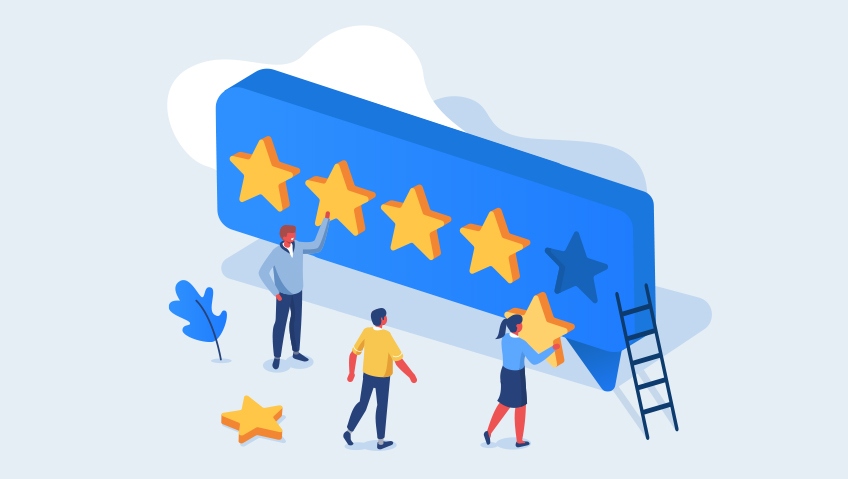 Google has announced a major update affecting review snippets – the review stars that accompany certain types of search results to help inform consumer decisions.
Like most Google updates, these changes were aimed at making review snippets "more helpful and meaningful" for users of the search engine and to fix what was seen as abuse of the system by companies posting reviews of their own products and services (directly or indirectly).
The three algorithmic updates that site owners need to know about are:
fewer types of schema now trigger review snippets
'self-serving' reviews will no longer feature
the 'name' property must now be included in markup
How do review snippets work?
If your page includes a product or service review that's formatted in a way Google recognises, there's a chance that this information will be included in its search results entry as a rich snippet. This can include star ratings (a single rating out of five, or an average of multiple ratings) and summary text from written reviews.
Site owners can improve their chances of getting a review snippet by including approved microdata in the form of schema tags. Listed at Schema.org, these tags can be included in the HTML of pages or added through a widget to tell Google what review data you want to show.
Review snippets benefit SEO and click throughs to a site, as high ratings and positive feedback from multiple users draw the eye and can make pages more tempting to click through to. Unfortunately, this has led to some businesses manufacturing their own positive reviews to game the system, which is why Google is clamping down.
What's changed?
1. Limiting schema types
Google has restricted the types of schema that produce review snippets, eliminating those that they've decided "[do] not add much value for the user." Only the following categories (and their sub-types) are eligible for rich snippets:
schema.org/Book
schema.org/Course
schema.org/CreativeWorkSeason
schema.org/CreativeWorkSeries
schema.org/Episode
schema.org/Event
schema.org/Game
schema.org/HowTo
schema.org/LocalBusiness
schema.org/MediaObject
schema.org/Movie
schema.org/MusicPlaylist
schema.org/MusicRecording
schema.org/Organization
schema.org/Product
schema.org/Recipe
schema.org/SoftwareApplication
2. Banning self-serving reviews
Glowing reviews of businesses posted on the business' own sites are getting axed with the new update, since these reviews can't be considered reliable and could mislead consumers.
This applies to reviews using LocalBusiness and Organization schema, which were found to be especially prone to "invalid or misleading" reviews.
This includes both HTML markup on the page itself and embedded third party widgets that the organisation still controls.
3. 'Name' property is now a requirement
The product or service being reviewed now needs to be specified clearly using the 'name' property, otherwise there's a risk that it won't be recognised as a snippet.
How does this affect my site?
If you use review snippets to attract customers to your site and increase conversions, you need to check that your site's structured data complies with Google's latest requirements. For most businesses this will mean little to no tweaking, but many have seen their rich snippets disappear overnight because they were invalid or improperly formatted.
If you rely on a third-party plugin for schema data, check whether this includes the 'name' property, as many do not. Check for the latest version of the widget and talk to your web developer to make sure your reviews are eligible for snippets.
For more information about review snippets and the recent changes, read Google's guidelines.